Skip to Content
Creativity Starts Here
Get the scope on current trends in event services from our seasoned event professionals.
a man in the water
Make a Splash in London's East Park
It's that time of year again: hot summer nights that stay light late! So take advantage of the season's extra hours and warm temperatures by getting outside and soaking up London's natural beauty. Our great city boasts a number of beautiful outdoor green spaces, but East Park is a glorified playground. We think it's well worth the 20 minutes it takes to get there. In a few words, it's the perfect place to get outside. For those looking for a bit more adventure, East Park has got you covered there, too.
Learn More
a group of colorful flowers next to a body of water
Stroll Through a London Park
Did you know that the Forest City is home to over 350 parks? With spring in full swing and summer on its way, there's no better time to get out and enjoy some of London's parks and woodlands than right now. Whether it's a small neighbourhood park or a sprawling green field filled with playgrounds and pools, there are plenty of gorgeous parks for you to explore, even on your lunch break. Plus, with the Thames River running through the city, it's no surprise many of the city's parks provide you with access to the river. Though by no means exhaustive, this list features some of London's hidden, and more well-known, natural gems. So, grab your brown bag lunch, and your sunscreen, and get out and enjoy some nature in the city!
Learn More
A bridge leading to a park with tall buildings visible in the distance
Experience London on your Lunch Break
Let's escape our busy days and retreat into the arms of our beautiful city. In April, we begin to see the buds of a promised spring and summer, and so it's high time we get outside to feel that hopeful energy. We include a few green spaces in our list, but also a few stops downtown to soak up the local culture, support local businesses, and sample something sweet. Make the most of your lunch break or your evening and see what London has to offer.
Learn More
maple syrup being poured into a bucket from a tree
Spend Your Spring Break in London
No work day or seminar at Ivey Spencer Leadership Center is too long or too busy not to make time for at least one outdoor adventure. And if you're here in March, even with one afternoon to spare, we know just the place to send you. Over the river and through the wood to our local maple syrup forest.
Learn More
waffles, pancakes, fruit and brunch
Brunch with Us
Whether you're here for business or for the business of getting married, or maybe just looking for a delicious meal while you're in London for the weekend, we'd like to invite you to brunch. We host a brunch for almost every event!
On Sunday morning, April 9th, Ivey Spencer Leadership Center is rolling out the carpet to set the scene for you and yours to celebrate Easter. It's one of the first in our Spencer Brunch Series for the year, all of which are listed here:
Learn More
flight of beer
Raise a Glass to Tobogganing
The start of a new year tends to inspire reflection of some kind, most often on the past year. But we'd like to look back to another century, or millennia even, to explain why one of London's most popular breweries is named after a tried and true winter pastime.
Learn More
woman with winter outfit and shopping bags in her arm looking through a window
Immerse Yourself in London's Holiday Spirit
Lights, markets, and theater, oh my! There's anything and everything to do this month in London, and we're here to make sure you don't miss any of it. This city literally glows during the holidays, and it's not just because of our spectacular lights show; we believe in the magic of the season. So come join us!
Learn More
woman going to shopping with multiple shop bags in her hands
Shop and Sip at London's Holiday Markets and Cafes
Here on business? Why not do a bit of holiday shopping after the workday is done? Most of London's holiday markets open for the weekend beginning mid-November. So why not visit one while you're here, or visit them all? We've dedicated this post to share all of your need-to-know details so you can hit the ground shopping as soon as you arrive.
Learn More
person at the theater watching a performance
Solve a Murder Mystery at the Grand
London's, and arguably, according to some, all of Canada's grandest stage is The Grand in our magnificent downtown. And this month, the theatre will debut the haunting story of its own past in a performance called Grand Ghosts. Its creators call it a vaudeville-inspired murder mystery about the real-life disappearance of Canada's first theatre magnate. And it's right in the Ivey Spencer Leadership Center's backyard. So make a plan to get spooked by a little local lore!
Learn More
girls drinking beer
Ivey Spencer Welcomes You Home
Welcome back, Mustangs! This weekend, Ivey Spencer is proud to host Western University and Ivey Business School alumni to the 2022 Homecoming Weekend. We can't wait to see you wear your Mustang purple and shout your Mustang pride as you attend 48 hours worth of events, rallies, games, and meals with friends new and old.
Western's 73rd homecoming will be a weekend to remember starting early Saturday morning, September 24th. Guests will arrive the night before, many in excited anticipation of the big homecoming football game vs the University of Waterloo Warriors. But don't leave after the game! The fun will have only begun! While you're here, don't miss the following events:
Pledge Ceremony and Ring Tradition– More than 13,000 alumni have participated in this tradition since 2004, providing Ivey alums with the opportunity to recite or recommit to the Ivey Pledge to act honourably and ethically and receive a personalized Ivey Ring.
Critical Issues Conversations– Join one of two concurrent sessions with distinguished faculty to discuss Global Citizenship, Competitiveness and Innovation, or the Evolution of Work. Professors will present cutting-edge research, why it matters, and how you can help.
Dean's Address– Join faculty, friends and classmates as Ivey's Dean Sharon Hodgson welcomes you back to Ivey! She will share a few remarks and present this year's Distinguished Service and Faculty Service award recipients in Ivey's BMO Financial Group Auditorium. Stay for brunch!
Homecoming Baseball– Western's baseball team plays a doubleheader against Guelph Gryphons at Dan Pulham Field.
Class Reunion– The highlight of your reunion - is to attend a personalized evening with your classmates and guests! Follow this link to learn your class plans and to officially register.
Golden Alumni Brunch– For classes celebrating 50+ years, join the Dean at a brunch to honour this remarkable milestone in Ivey's Brock Pavilion. Watch your mail for a separate invitation and reply card.

For times, locations, and registration details for all things Homecoming, visit the Ivey Spencer website or call us. It's not too late to make plans to attend Homecoming weekend in London! Go Mustangs!
close view of a man playing a guitar with a red suite
Get Down With the Blues
For the first time ever, Londoners can get down with the blues at a free, three-day, summer BluesFest. Featuring Canadian blues icons Downchild and American great, Devon Allman as headliners, it's a showdown you can't miss. Time your visit to London for these days and let these talented musicians carry your blues away.
Beginning Aug. 26 at Victoria Park, the festival will also feature four stages of music featuring international stars Sass Jordan, Rare Earth, The Lincolns, Scott Holt, and Canadian blues acts such as Big Rude Jake, Bill Durst, Robin Banks, Wild-T & The Spirit and Juno Award winners, Steve Strongman and Jack de Keyzer. Not familiar with the bands? Let us fill you in! Sass Jordan has been a mainstay on the Canadian music scene since the late 1980s, with hits including Make You A Believer, Rescue Me, Tell Somebody and High Road Easy. Canadians will also have seen him on television as a judge for six seasons on Canadian Idol. Canada's best-known blues band from the early 70s, Downchild, is led by Donnie Walsh. Expect them to play crowd favorite, I've Got Everything I Need (Almost), and their cover of Flip, Flop, Fly that still plays on the radio today. Devon Allman is a next-generation Allman Brothers (Greg Allman's son), and Rare Earth's hit song, I Just Want To Celebrate, made them the first all-white band to be signed by Motown. Rare Earth and The Lincolns are the festival's primary rhythm and blues bands.
Organizers insist these headliners, combined with a stacked lineup of popular and up-and-coming local artists will make for a fabulous debut event. With thousands of blues fans expected to attend, they hope the festival will be just the first of its kind. Donations and profits from participating vendors at the event will support Spinal Cord Research at London's Parkwood Hospital.
Victoria Park is London's primary outdoor event space and it's only an eight-minute drive from the Ivey Spencer Leadership Centre. For more information about the BluesFest and to plan your stay while you're in London, contact our concierge today!
woman in a tubbing float on the pool
Visit London's East Park
Take advantage of summer's long daylight hours and warm temperatures and soak up London's natural beauty. The city benefits from a number of outdoor green spaces, but East Park is a glorified playground making it the perfect place to get outside— and for those looking for more than just a little bit of outdoor fun— get your adventure on.
With more than 100 acres to explore, East Park offers hours upon hours of fun for the whole family. Feel your adrenaline race as you test drive go-karts on the park's 1,800-foot race track or smash some golf balls at the park's driving range and batting cages. In addition to a driving range and mini-golf course, East Park is also home to the finest executive golf course in London. So after your work day is done, get to the links and relax the evening away with 18 holes of manicured greens and fairways. If the weather is especially warm and you feel like getting wet, East Park has your answer to that, too, since it also happens to be the proud home of London's largest waterpark. Fully packed with more than seven towering slides, tubing, and giant pools galore, there's no better place to cool off and have fun with the whole family. But if getting in the water isn't your thing, and indoor activities are more your style, fear not; rock-climbing, bumper cars, jungle gyms, and a full arcade await. All this and more is just a 20-minute drive away from Ivey Spencer Leadership Center, making it an easy activity to tack on to the end of any business trip. Different activities at the park have different hours so call our concierge for more details and plan your visit today.
woman laughing with soap on her face
Jump in and Get Filthy Clean!
Make plans today to join the
5k Foam Fest
in downtown London. Dubbed "The World's #1 Fun Run," Foam Fest throws participants into all sorts of trouble with dozens of obstacles sure to get you filthy clean!
The annual 3.1 mile race is a one of kind obstacle course based fun run with 22 obstacles including the world's largest inflatable waterslide, mud pits, and 2.5 million cubic feet of foam! Runners be invited to rock out all day, well after they've completed the course, to take advantage of 12,000 watts of awesome, live music perfect for the whole family. There's something for the little ones, too; anyone under six can play in the Kid's Zone! After running up an appetite, plan to taste some delicious food, shop from local vendors and celebrate your success in a well-stocked beer garden. The race is designed for all abilities with a variety of obstacles from the body washer and log roll to tube town and a spider web forest, plus tons of foam, making the 5K Foam Fest an exciting challenge for experienced and beginner runners alike. Walk it, run it, or sprint it to enjoy at your own pace; technically, all the obstacles are optional, but being a good sport is required. The race is scheduled for July 9th, with the first wave diving in at 8 am and then every 15 minutes until 1 pm. Learn more by visiting the event
website
and time your visit to Ivey Spencer Leadership Center so you can dive in, too!
tent in a grass field with tables
Gather on the Green!
Plan ahead so you can join London's much-anticipated all day outdoor event, Gathering on the Green in the area of the city affectionately known as Old South.
Celebrating 40 years this year, the event is London's largest and oldest Community Festival. Free, fun and open to the public, Gathering on the Green will have you feeling like a local and getting to know a few while you're at it.
Every year, on the first Saturday in June, hundreds of Londoners flock to the Village Green at Wortley Road and Elmwood Avenue. Rain or shine, the day's activities and entertainment include more than 100 local craft venders, a pet show, dunk tank, tea garden, silent auction, live music and, to wash it all down, an all day BBQ. Part of the event, too, is the Village Ride. It's a community bike ride where participants decorate their bikes for prizes and McDonald's treat coupons for all. Gathering on the Green is run by volunteers and supported by the Old South Community Organization and other local businesses with past event proceeds contributing to more than $120,000 for projects and organizations in the community. For more information, visit the event's website, and make plans to combine business with pleasure!
a woman and a man eating tacos
Visit the Latin Market at Covent Garden
Gather your colleagues and your appetite and head on down to Covent Garden to satiate your senses at the weekly Latin Market. It opens this month and will dish out delicious, heart-warming Latin fare all spring and summer long.
Every Sunday, from 11 until 3, you're invited to visit a dozen vendors–more than half of which serve food–and indulge your curiosity for Latin culture and flavors. Artisan vendors include Penelope Designs, Artesano Canada, and Shaperfect while food offerings will include those from Sweet Bites, Antojitos Latinos, Esau Parrilla, La Mexicana, Sweet Bakery and more. During the month of April, the market will be upstairs, on the mezzanine level. In May, the Latin Market moves outdoors.
If you've never been to Covent Garden, it's worth a visit in its own right! With plenty of enticing shops and talented vendors hawking their homespun wares and handmade treats, it's a feast for the senses. Established in 1845, Covent Garden is a seven-day Market located downtown, just 10 minutes away from Ivey Spencer. The Latin Market is just the latest and greatest offering from its stacked bill of food purveyors, tourist services, a weekly local farmers' market, and a whole array of cultural festivals and events. So what are you waiting for? Duck in any Sunday to the Latin Market, open to serve you April 3rd through September 25th!
forrest covered in snow
Tap into the Season of Golden Syrup
If you've come to London in March, we can't let you leave without tasting what's on tap. It's not a hazy ipa or a caramel milk stout. No, tucked under the bark of our intrepid maples flows maple syrup, and we'll tell you how to find it.
About 25 minutes northeast of the Ivey Spencer Leadership Center is Kinsmen Fanshawe Sugar Bush. Sure, it'll take you a little ways out of London, but there's good reason for the drive: the Sugar Bush Maple Festival takes place throughout the month of March! Bring a friend or the whole family and treat your senses to this spectacular seasonal process; learn about the sugaring process at Sugar Bush and taste the warm syrup we consider liquid gold after following the sap from tree to teaspoon. Admission treats you to a tour of the facilities as well as a horse-drawn wagon ride through the grounds. And come hungry! A Pancake House on site serves up breakfast dripping with authentic Sugar Bush Maple Syrup. Buy a bottle or three before you go so you can enjoy the experience over and over again back home. For more information, talk to our concierge; we'd love to help you plan your visit!
bride holding a flower bouquet
Say "I Do" With Us
Here at Ivey Spencer Leadership Center, we're excited to announce the opening of our new Spencer Meadows Pavilion. Perfect for realizing the wedding of your dreams, the bright, spacious, and stylishly appointed pavilion accommodates up to 200 guests.
The pavilion isn't simply a diamond in the rough; the gorgeous venue complements our breathtaking indoor dining room with versatile seating arrangements that can accommodate place settings for 150 guests. And both are nestled within the picturesque landscape of the site's Georgian estate. Let it be the backdrop to your dream wedding and our farm-to-table menu–crafted with love by our dedicated chefs–fill your family and friends with the meal of a lifetime.
More than a destination, booking the Ivey Spencer Leadership Center's Meadows Pavilion and dining room for your wedding will afford you the guidance of our experienced wedding coordinator who will guide you through a customized wedding package perfect for you and your special day. This package includes customizable wedding menus; exclusive photography opportunities; rehearsal parties, bridal showers, after wedding breakfast; access to picturesque gardens, historic gardens, onsite guest rooms, and complimentary parking. Call or visit us online to schedule your appointment and book your wedding today.
a band playing instruments on a stage
Let Music Liven Up Your Nightlife
Tired of trying to make your own fun indoors? We know how you feel, but we also have the pulse on a little secret that's sure to turn your winter blues into something worth celebrating.
If you've been to London, you've heard us gloating about our fabulous parkland and majestic scenery. But you're probably not aware of the bustling music scene thumping at the heart of the city's vibrant nightlife. After your long day of meetings and emails, book a short ride around the corner to check out top touring artists at London Music Hall. Ask anyone; it's the place to be! Located in the heart of Downtown London and about only three miles from Ivey Spencer Leadership Center, this local gem is guaranteed to spice up your night on the town.
For years, London Music Hall has been bringing some of the best music to London with the hottest international artists, local favorites, and every genre you've never met in between. The state-of-the-art venue delivers top-notch production value and even boasts a second, adjacent stage area called Rum Runners, to ensure you get the best bang for your buck. With near-nightly shows every month of the year and a wide range of performances, there's something for every brand of music lover. We'll see you there!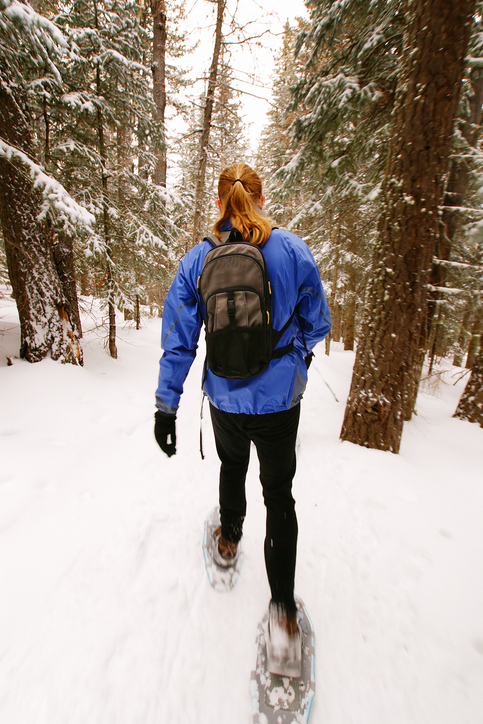 person walking through snow
Make Tracks on the Circular R Ranch
We love our backyard playground and forecasts predict this winter, it's going to be piled high with snow. So why not get out there and enjoy it? On your next business trip, plan some exercise, too!
Just 20 minutes outside of London and into magical forestland, wind through eight miles of immaculately groomed winter skiing and snowshoeing trails. Think it's not for you? Think again! Circular R Ranch offers snowshoe rentals and equipment for purchase so that no matter how efficiently you've had to pack for work, you can still gear up and get out on the trail. Just order online and pick up curbside! The ranch is open daily between 10am and 5pm on weekdays and 9am and 5pm on weekends, but arrive after 2pm on a weekend to score a discount! Check the ranch website for details on weather conditions before you go and see what trail fits your skill level. Tuckerman and Blue trails may challenge the more experienced skier while Sugarbush and River Road cater to beginners. There's something for everyone at the Circular R Ranch, so make this December your month to glide through our winter wonderland. For directions on how to get there, talk to our friendly concierge.
couple walking around and shopping
Carefree Shopping at London's Outdoor Markets
Here on business? Why not do a bit of holiday shopping after the work day is done! Most of London's holiday markets open for the weekend in mid-November. Visit one or visit them all!

There's sure to be a gift for everyone on your list just waiting for you at any one of our festive holiday markets. With more than a half a dozen markets replete with locally made crafts, artisan homegoods, handmade pottery, childrens' toys, and more, you might consider packing extra room in your suitcase to bring your treasures home. First on our list is Christkindl Market at the German Canadian Club on 1 Cove Road in London. Expect to find traditional Bavarian treasures as well as delicious homemade German food. Next stop, Covent Garden for the Holly Jolly Holiday Market and Fiber Art Festival and Sale. Come for the locally made fiber creations and stay for the demonstrations! Deck the Halls Annual Artisan Market is in Victoria Park at Ingersoll Creative Arts Centre. As its name suggests, local talent fill the shelves with their best and brightest creations! For functional and sculptural pottery, Potters Market Show and Sale in Somerville is your answer. No matter where you shop, you'll be sure to feel the holiday spirit!
halloween costume party
Crimes, Haunts, and Curses, Oh My!
Eldon House is open to visitors year round, but there's one week in October when only the bravest souls will enter the gates to meet the ghosts who lurk beyond.
With stories stretching back to the mid 1800s, the historic Eldon House is known as London, Ontario's first residence. The Harris Family lived there, and so it's not surprising the grounds and its lovely manicured gardens take the name, "Harris
Park." Self-guided tours are available Wednesday-Sunday afternoons. But on Saturday October 16th and Sunday October 17th at 6:30 and 7:00 pm guided ghost tours are offered. You see, London is one of the oldest cities in Ontario and has seen its share of scandals, crimes, and disasters. So why not join Eldon House Historical Interpreters for a walking tour, rain or shine, to learn about some of the crimes and spooky happenings of the city in days gone by? It's advertised that the tour begins and ends at Eldon House with stops along the way at the Old Courthouse nearby, St. Paul's Cathedral, and the Grand Theatre. Registration is required so reserve your spot today!
wine and champagne toast
Immerse Yourself in the Beauty of the Season
As cooler temperatures settle with the mid-September autumn moon, watch the leaves begin to change from Ivey Spencer's backyard. You don't have to go far to experience the natural beauty of the season. Before you venture out in the morning, treat yourself to a hearty, farm-fresh meal in our largest restaurant, Asher's Dining Room. A hot breakfast of the region's finest foods will fuel any activity you have planned, whether hiking, biking, or strolling along our scenic wooded trails to immerse yourself in the changing fall foliage.
If team-building is something you and your fellow guests are willing to do, why not opt for a high-ropes adventure at Boler Mountain, described at length in another one of our blogs. Regardless of how you spend your day, we invite you to relax and unwind in one of our restaurants or lounges. Reserve an event for you and your party in our Poplar Lounge to delight in the crisp fall air and enjoy cocktails by the outdoor firepit. Contact our experienced event planner today to create a customized schedule for your group.
little boys at waterpark
Endless Entertainment at East Park
London's natural scenic beauty makes it the perfect place to be outdoors, and for those looking for more than just a little bit of outdoor fun, East Park is your go-to adventure center.
East Park offers hours upon hours of fun for the whole family. Let your adrenaline run wild as you test drive go-karts on a 1,800-foot race track or hit some balls at the driving range and batting cages. In addition to a driving range and mini-golf course, East Park is also home to the finest executive golf course in London. Relax the day away with 18 holes of pristine green.
If the weather is especially inviting, East Park also happens to be the proud home of London's largest waterpark. Fully packed with over 7 slides, tubing, and giant pools galore, there's no better place to cool off and have fun with the whole family. If indoor activities are more your style, fear not, rock-climbing, bumper cars, jungle gyms, and a full arcade await.
dolce ivey spencer dining inset 01
Casual Summer Dining Returns To Asher's Patio
When it comes to casual summer dining, look no further than our very own Asher's Patio for farm-to-table freshness with an equally relaxing view to match. Best yet — Asher's reopens for the summer season beginning this Tuesday, June 15th!
Ease into your surroundings on a spacious outdoor patio and enjoy an unforgettable evening. Asher's features scrumptious shareable plates, hearty signature dishes, a robust drink menu, as well as kid-friendly favorites. Following dessert, take an after-dinner stroll amid the lush grounds of our historic Georgian manor or turn your meal into a memorable staycation and retreat to the comfort of one of our luxury suites. No matter how you choose to wine and dine in London, Ontario, we'll be waiting with the best of the summer season to satisfy your palate!
Lunch service is available Tuesday through Saturday from noon to 2:00 pm; dinner service begins at 5:00 pm. For reservations, call (519) 675-5535.
person riding bike
Ride Through The Fresh London Air This Summer
As spring comes to a close and summer approaches, it's only fitting that we begin venturing outside for a little bit of outdoor fun. Surrounded by scenic beauty, London is the perfect place to pedal through nature. Whether you're a budding beginner or avid rider, you won't have to journey very far to see a new side of our home. Here's two of our favorite places to start.
Boler Mountain
Only about 20 minutes west of Ivey Spencer Leadership Centre, this is a local favorite with a variety of trails ranging from beginning and intermediate all the way up to expert, as well as a walking fitness trail for those who want to take it a little easier. Often the home of many national events, Boler Mountain is still an approachable, accessible introduction to the great London outdoors. Day passes can be purchased for a nominal fee.
Thames Valley Parkway
Running parallel to the scenic Thames River, the Thames Valley Parkway spans about 40 kilometers, creating a direct path from North to South London, as well as connecting to plenty of other additional pathways throughout the area. A beautiful blend of urban cityscape and natural landscape, you'll often find cyclists, joggers, runners and rollerbladers making their way through this stretch on a daily basis.
For the most up-to-date information, visit https://www.bolermountain.com/ and https://london.ca/thames-valley-parkway-tvp.
victoria park canada
London Ontario Parks
Take a Walk Through Canada's Forest City
With over 200 parks with preserved woodlands, meadows, ponds, and miles of paved bike paths along the Thames River, it's no wonder London, Ontario, got its nickname "Forest City." If you're looking for a place to stretch your legs between meetings, there are plenty of opportunities to experience London's varied landscapes and discover what the great Canadian outdoors has to offer.
Here are a few of our favorite natural gems:
Springbank Park
Located along the Thames River, 300-acre Springbank Park is the largest park in London with over 30 kilometres of trails. Perfect for family outings, the park is home to Storybook Gardens—boasting seasonal activities like a winter skate trail, plus storybook-themed rides, entertainment, and of course, beautiful gardens.
Medway Valley Heritage Forest
History buffs will rejoice for the remnants of Canada's rich history found in this flourishing forestland, just a 6-minute drive from our conference centre. Explore the remains of a mill dam formerly used by European settlers or walk along the creek and try to spot all 43 species of fish that reside in the quietly racing water.
Kilally Meadows
This stunning open meadow features sycamore, poplars, and willow trees along the river, as well as wildflowers in the warmer months—making it the perfect place for an impromptu nature walk at any time of year. Start your day along any of Kilally's relaxed trails that total 10.3 kilometres.
historic photo of toronto
A Look Into Ontario's Past
Many believe that the European settlers were the first to settle on the land that is Ontario today, however, it was the Algonquin, who were migrant hunters, and the Iroquois, who farmed squash, corn, and beans that inhibited the area over 12,000 years ago.
Though it was during the 1600s when Ontario's story began. Henry Hudson claimed the Hudson Bay area for Great Britain in 1611, Iroquois warriors destroyed North America's first island French settlement, St. Mary Among the Huron, in 1649, and Sault Ste. Marie became the first permanent European in both present-day Ontario and the American state of Michigan in 1668.
Then came the 1700s, which was action-packed to say the least. After Great Britain's Seven Years' War victory in 1763 and American Revolution in 1776, present-day Ontario became home to roughly 9,000 Loyalist settlers. In 1791, present-day Ontario was then named Upper Canada, French-speaking Quebec was dubbed as Lower Canada, and the small settlement of York became Upper Canada's capital in 1796—which eventually changed its name to Toronto.
Moving in an upward fashion, Upper Canada's population skyrocketed from 6,000 to 46,000 between 1785 and 1806, and many of Ontario's largest cities were founded during the early 19th century prior to the War of 1812.
Shortly after the Upper Canada rebellion in 1837, the territory joined with Lower Canada to become a single province in 1841; and by 1851, the province's population was 952,000. Following suit, Canada East and Canada West agreed to a federal union with the other British North American colonies; and New Brunswick along with Nova Scotia joined Quebec and Ontario as the first four provinces of the new nation of Canada in 1867.
Today, Ontario remains a top choice for immigrants due not only to the province's central location in Canada, but because of its strong multicultural history as well.
a photo of an outdoor dining area
Fresh Air, Fresher Flavors
Of all the things we miss most, enjoying a delicious, farm-to-table meal at our onsite restaurant easily tops the list. While we're dedicated to delivering the best seasonal offerings in all of Southwestern Ontario, the health and safety of our guests and employees is our number one priority. As we adapt to a new norm, we're now offering dine-in service on our outdoor patios—because what's better than stunning views and scrumptious dishes?
For now, we'll be offering dinner only from 5 pm to 9 pm every Tuesday through Saturday. And with that, we're diving into some of our favorite, mouthwatering plates in hopes to inspire your next evening meal
When it comes to dinner, we have plenty of options to choose from. Opt for the Panko Breaded Butternut Ravioli to start, the Braised Lamb Shank to follow, and close the evening with a Chocolate Peppermint Brûlée. This is just one of the many possible pairings that are guaranteed to send your taste buds on a tour of bliss.
a photo of the toronto skyline and water
Ontario Facts You Probably Didn't Know
Known for its rich history and cultural diversity, Ontario is a province unto its own. Nicknamed The Heartland Province for its bustling economy and large population, here's a few fun facts you may not have known about the Canadian territory.
Ontario is actually the most populous province in all of Canada with an estimated population of about 13.5 million people.
Not only was the first NBA game held in Toronto, Ontario, but the sport of basketball was invented by an Ontario native, Dr. James Naismith. He invented the sport, which was originally played with a soccer ball and two peach baskets, in December of 1891 while teaching at a YMCA in Massachusetts.
Ontario is widely associated with one of the most famous inventions in history: the telephone. Alexander Graham Bell immigrated from Scotland to Brantford, Ontario, and did much of his research regarding the invention there. In fact, Bell's Brantford home was declared a National Historic Site.
a photo of a bride at london hotel
A Premier London Wedding Setting
To be married at Ivey Spencer Leadership Centre is to say "I Do" on the grounds of an iconic Georgian manor settled on expansive landscaped grounds, manicured to perfection. Home to refined design and a selection of unique wedding amenities, this storied establishment can be tailored to your love story.
Characterized by its exterior classic red brick, shuttered windows, and towering white pillars, Ivey Spencer Leadership Centre will transcend your guests through time upon the moment of arrival. You'll find a dining room with elegant white wall paneling, primed to host your reception or ceremony, as soon as you enter. Should you prefer an outdoor ceremony, opt to exchange your vows in the exquisitely designed gazebo or hold a sunny service on the estate's expansive patio.
Furthermore, our wedding team might just be what puts our venue over the top. Designed to provide detail-oriented assistance, the wedding team at Ivey Spencer Leadership Centre offers a number of services. But most importantly, they are dedicated to keeping everyone involved in your Big Day safe during these sensitive times.
close up of colorful boy at holi celebration
Springtime Entertainment in London
With spring in full bloom and a contagious liveliness in the air, there's no better time to experience all that London has to offer. This time of the year is great for festivals and entertainment and when you stay at Ivey Spencer Leadership Centre, you're never far from the action. Here are some suggestions for fun events to try while visiting London.
Budweiser Gardens - With an ever-changing lineup of events, you never know what you're going to get at the Budweiser Gardens. However, this time of the year is full of exciting shows, games, and performances. Spend some time in April watching the Harlem Globetrotters perform basketball magic or watch Miranda Lampert rock the stage. Check-in frequently so you won't miss any great shows!
London Poutinefest 2020 - It's no secret that London loves poutine. Take time out of your trip to experience Canadian poutine the way it was meant to be experienced. Try dozens of different takes on the popular dish and decide for yourself which curd reigns supreme.
Holi: Festival of Colors - Add some color to your life with this unique festival. Over 2000 pounds of colors will be dropped on thousands of participants in this traditional Indian festival. Come early and become a part of a fun, unique tradition.
group of kids at park
Family Fun at Storybook Gardens
For over 60 years, London has been challenging the idea of a city-run park. While other parks feature benches and fields, London's favorite park prefers shows, fantasy, and splash pads. This description is, of course, for Storybook Gardens, and this is one London destination you and your family won't want to miss!
Storybook Gardens is a unique outdoor park that is themed from head to toe in storybook fantasy. The park features year-round fixtures and events like outdoor structures, amusement rides, and music performances. There are also plenty of seasonal activities that match the corresponding weather. In the winter, you can enjoy quality ice skating along a beautiful 250-meter outdoor trail. As the snow melts and the sun shines brighter, ice skating becomes replaced with splash pads and water play areas.
No matter what time of the year you are visiting Ivey Spencer Leadership Centre, the best family-fun around will always be Storybook Gardens. Spend the day or come for a bit all week. The kids will never get bored and there is fun for all.
wine cheese ham and fruits served on wooden cutting board
Food, Wine, and Good Times
Just because the holiday season is wrapping up doesn't mean that the feasts and festivities have to as well. Revitalize your spirit to do, see, and eat all that London has to offer at the London Wine and Food Show.
The London Wine and Food Show is a multi-day celebration of everything delicious in our lives and will take place from January 16 - 18 at the Western Fair District Agriplex. Guests will have the opportunity to indulge in the finest wines and most decadent bites around. Pair your favorite robust red with hand-wrapped sushi, or sip on some chardonnay and cheese. Whatever new pairing you want to experiment with, you'll be sure to find them, and more, at this festival.
Besides the endless local food and drink options, the London Wine and Food Show will also be proudly presenting live entertainment, whiskey tasting, and instructional demonstrations. So whether you're looking to accompany your hor d'oeuvres with some country music or learn about ways to transform fresh ingredients into vegan feasts, they've got you covered. Grab your tickets today and say hello to the new year in style.
woman lacing up her ice skates
Grab Your Skates and Head to Victoria Park
Canadian winters and ice skating go together like Canadian summers and dreaming of ice skating. If you've been waiting all year to whip out for skates or if you're visiting and want to experience some outdoor fun, then Victoria Park is calling your name.
Victoria Park will be open for public ice skating on December 7 and will remain open until around the end of March, depending on the weather. This beautiful park will be decorated with a Christmas tree and is always a very inviting venue. All ages and all experience levels are welcome to skate around like pros or fall on their butts a couple of times.
The ice rink will be open from 10 am to 10 pm daily with a small closing from 5:30 pm to 6:30 pm for ice resurfacing. Bring your skates and get them sharpened for a small fee, or rent directly at the park if you're visiting. Note that the rink is closed if the weather takes a turn for the worse, so always call ahead if you're unsure. Have fun and get skating!
toy train at christmas
The Canadian Pacific 2019 Holiday Train
Every year, one of the most wondrous family events around the start of the holiday season is the Canadian Pacific Holiday Train. The Canadian Pacific travels through communities around the Ontario area, stopping by for a 30-minute concert at each destination. This year, stop by and experience a new type of family-friendly fun.
The train itself is fully decorated with lights and other festive ornaments. Once the train comes to a stop, a small presentation will be given, followed by a live performance from the professionals on board. The train encourages patrons to make donations for the local food bank, but the event is completely free.
This year, the London stop will be the Richmond Street railway crossing between Oxford and Central on Friday, November 29 between 8:30-9:30 pm, with the train arriving around 8:15 pm. Make sure to arrive on time and get a good seat for this unique holiday event. Bring some snacks and spread the gift of gifting!
mimosas
Be Thankful for Brunch with Ivey Spencer
It's crazy to think about just how fast 2019 has flown by. This year has brought different joys for people and it's almost the time of the year when we celebrate everything we have to be thankful for. On Sunday, October 13, Ivey Spencer Leadership Centre wants to invite you to our special Thanksgiving Brunch so that we may celebrate the good in our lives together.
Like all of Ivey Spencer's brunches, the Thanksgiving Brunch won't hold back any gastronomic punches. All of your year-round brunch favorites will fill the menu and your belly. Additionally, the holiday wouldn't be complete without a wide assortment of home-made Thanksgiving favorite that will have you forgetting you're not back in grandma's kitchen.
These seasonal brunches tend to be very popular so make sure to call and reserve your spot ahead of time! We are thankful for being able to fill your bellies and your hearts with this special meal.
fig and blue cheese crostini
Let Your Stomach Lead the Way at LondonLicious
Everyone who has lived in London or simply visited enough has their favorite hidden gem or two where the food is, obviously, better than anywhere else. But for every hidden gem you accidentally stumbled upon on a rainy evening, dozens more are just waiting to be discovered. This is where LondonLicious comes in.
LondonLicious is a city-wide annual event that encourages locals and tourists alike to venture out and explore London's diverse culinary scene. Local establishments design unique menus meant to proudly showcase their cuisine.
Here at Ivey Spencer, we've put together a special three-course feast that we think captures the essence of London. If a blue cheese and fig crostini appetizer followed by a seared cod loin, accompanied by a chocolate mousse martini sounds like your kind of evening, then you definitely won't be disappointed!
This special event will run from July 19th - August 11th, so come check out local legends and make sure to leave plenty of room for seconds!
family at museum
Museum Hopping in London
One of the best ways to really get a feel for the spirit of a city is to look at its past! London, Ontario has a diverse history that has been beautifully captured and preserved by the many museums lining our historic streets. Summer is the perfect time to explore London's past for yourself and see what has made us special throughout the years.
Make your way over to the Banting House to learn about the life and times of Dr. Frederick Banting; his discovery of Insulin has been one of the most important medical innovations of the century. For a more traditional experience, the London Museum boasts over 5,000 works of art and will provide you with hours of material to view. Not to mention there are also over 45,000 artifacts from the surrounding area. Get a glimpse of a very unique piece of Canadian history. Dozens of other museums and historical homes make up the London museum experience so make sure to check some out during your stay at Ivey Spencer Leadership Centre.
girls drinking beer
London International Food and Craft Beer Festival
Summer is in full swing, but you may be wondering how you can get the most out of the beautiful weather and cheerful vibes. The answer to that lies in the trifecta of summer fun - food, beer, and live music. This year, from June 21-23, the London International Food & Craft Beer Festival is back for three full days of reminding you what summer is all about.
This festival will be jam-packed with the top brewers and chefs on this side of Canada. Hop around from booth to booth as you quench your thirst with the best hops around. Momentarily travel the world as you experience cuisine from the heart of the Caribbean and other regions around the globe. This is an international festival after all!
Your culinary experience will be paired with headliners and all of the live music you can handle. Vendors from all around the world will be there to show you what makes their region so special. There will even be cooking demos from different cultures and other educational experiences. The festival will be open all three days from 11:00 am to 11:00 pm (9:00 pm on Sunday) and is located less than five kilometers away from Ivey Spencer Leadership Centre at Victoria Park.
ropes park adventure
Outdoor Summer Fun at Boler Mountain
Melting snow and significantly fewer layers of clothing can only mean one thing - winter is out the door and summer's right around the corner. This May, say hello to the warm weather with Boler Mountain as we shift gears into the Green Season.
Start your summer off with some adrenaline as you zoom through Boler Mountain's renowned mountain biking trails. Whether you bring your own or rent one for the day, the trails are open almost every day from early morning well into the evening. Beginning May 4, the especially adventurous can try to swing their way through a Treetop Adventure Park. This sky-course includes Tarzan swings, pirate nets, swinging bridges, rope courses, and even zip lines! The main 1100-foot tandem zip line can even be enjoyed without participating in the rest of the treetop park.
Outdoor adrenaline rushes can be great, but for those who look to relax in the sum, mountain yoga classes will begin in the middle of May and last all summer. There's no better way to relax the day away than in the heart of nature. Maybe your way to relax is a little bit of friendly competition? If so, make sure to check out the beach volleyball courts that can be rented or used as part of a summer beach volleyball league! Whatever way you prefer to enjoy the outdoors, Boler Mountain has you covered!
couple at red carpet award show
The Magic of the JUNO Awards
For almost 50 years, the JUNO Awards have been proudly celebrating Canada's top artists - both established and new. What was once Canada's greatest awards show grew beyond our wildest dreams and one day a year was nowhere near enough to contain it. The JUNO Awards "On The Road" now showcases a new city every year for an entire week of locally driven festivities and honors. This year, March 11-17 will be London, Ontario's turn to show the rest of Canada just how talented and driven our city is. Located close to the magic, Ivey Spencer Leadership Centre wants to be your gateway to the festivities.
From comedy shows to jams and electrifying concerts, JUNO Week will have something for everybody. Most of the festivities will take place at various venues around Downtown London. Show up, follow the crowds and have a blast. The week will wrap up with the awards ceremony Saturday, March 17th at the Budweiser Gardens.
ice hockey players and referee
Experience London's Premier Events
When business is done and the sun goes down, you'll want to experience London the way that locals do. Conveniently located less than 6 km away, Budweiser Gardens is London's premier indoor event stadium and offers a wide assortment of year-round entertainment. All February long, come see London's professional basketball and hockey teams, the London Lightning and London Knights, duke it out with rivals multiple times every week.
The ice rink is not only for ferocious hockey games; those traveling with family can attend one of multiple Disney on Ice shows at the end of February and beginning of March. You may even be able to catch a rock concert or two during your visit. No matter what brings you to London, make sure to keep an eye out for any potential shows and events at the Budweiser Gardens.
crowd of people at a concert with band on stage
Feel the Music Scene
Everyone knows about London's beautiful parks and scenery, but many are not aware of the bustling music scene that lies at the heart of the town's nightlife. If you want to check out top touring artists, London Music Hall is the place to be. Located in the heart of Downtown London and around 5 km from Ivey Spencer Leadership Centre, this local gem is sure to make your night more exciting.
For years, London Music Hall has been bringing the music scene to London with the hottest international artists, local staples, and everything in between. This state-of-the-art venue has top-notch production and even boasts a second adjacent stage area, Rum Runners, to really let you get the best bang for your buck. With near-nightly shows every month of the year and a wide range of performances, there's something for every breed of music lover.
brunch
Munch-a-Brunch
Everyone knows the age-old saying, "a Sunday fun-day keeps the doctor away." Okay, maybe that's not exactly how it goes, but when you consider that Sunday means brunch-day, who cares? Luckily, Ivey Spencer is taking over 2019 with a brand new brunch series that's sure to spice up your weekends.
Our elegant brunch series kicks off Sunday, February 10th with a Valentine's Day extravaganza. Skip the 2-hour wait at a restaurant most people can't pronounce and instead pronounce your love a little early with our brunch made for two.
If your Valentine's week is too booked to enjoy our delicious brunch classics, fear not, our gourmet series of brunches will also be available April, May, June, October, and December. We look forward to filling you with mimosas and more so come get some while the getting's good.
table setting with flowers
Meet Your Wedding
Surprises can sometimes be a warm welcome, but definitely not on your wedding day. On Sunday, January 27 from 2 pm to 4 pm, Ivey Spencer would like to extend an exclusive, complimentary invitation to you for our Wedding Open House. Come spend your Sunday exploring both our beautiful grounds and culinary expertise with delectable hors d'oeuvres and maybe even win a prize or two!
It's one thing to see names and qualifications on paper, but we want you to meet our team and feel at ease and confident about your wedding destination choice. Our onsite wedding planner will be here to answer questions, and you will have the opportunity to meet our hand-picked expert vendors. Come get a firsthand look at the planners who will be making your big day a magical experience.
A beautiful elevated wood walkway is surrounded by orange fall leaves filling the canopy floor
Retreat Activities for the Fall Season
As the weather cools down and the leaves begin to change, it's the perfect time to partake in all the outdoor activities that Ivey Spencer has to offer. Fuel up in the morning with a farm-fresh meal in our largest restaurant, Asher's Dining Room. Afterward, guests can take full advantage of our scenic trails, suited for hiking, biking, and long strolls. Sports fans will find plenty of ways to stay active whether its playing volleyball, baseball, basketball or soccer. If team-building is a part of your party's agenda, opt for a high-ropes adventure—a fun and active way to strengthen your team's bond. After a long day of activity, you'll be eager to unwind in one of our restaurants or lounges. We recommend reserving our Poplar Lounge (ideal for parties with 75 guests or less) to delight in the crisp fall air and enjoy cocktails by the firepit. Contact our experienced event planner to create a customized schedule for your group.